Tutti parlano del radiofonografo
Anche i media internazionali innamorati del radiofonografo
Il radiofonografo ideato dai fratelli Castiglioni non è solo un'icona del design italiano, ma è un capolavoro capace di raccontare e trasmettere tante storie speciali e uniche. Ecco perché, oltre a tanti appassionati nel mondo, anche numerosi giornalisti ne parlano spesso, ognuno con il proprio punto di vista, ognuno creando un proprio racconto, unico e speciale come i Brionvega Art Products.
Senza nascondere un pizzico di orgoglio, ecco alcuni esempi di alcuni articoli apparsi su testate internazionali uscite negli ultimi mesi estivi.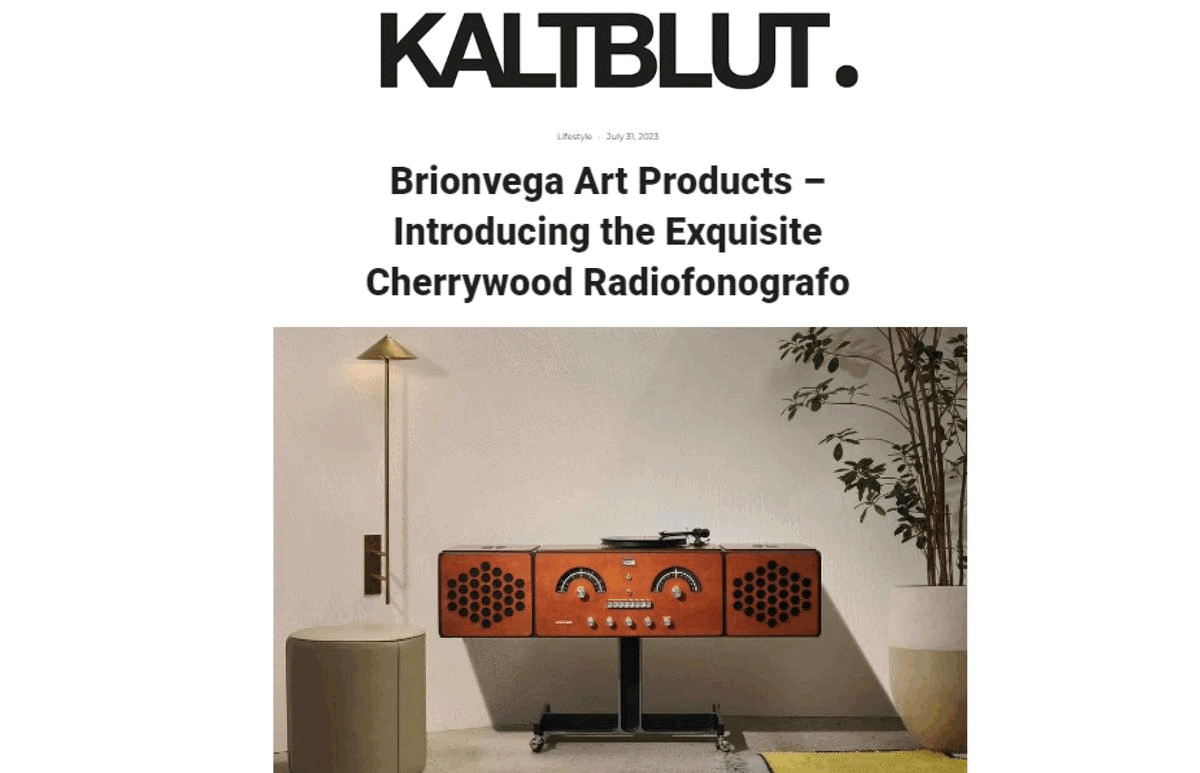 "The radiofonografo serves as a timeless heirloom that can be passed down through generations."
Mandi Keighran sulla testata OnOffice, dedicata ad architetti ed interior designer, illustra le due anime che convivono nel radiofonografo: la fedeltà al progetto originale e il fascino del processo di produzione artigianale, che permettono a questo oggetto di essere sempre percepito come timeless design.
Clicca qui per scaricare il PDF dell'articolo
"We are timeless, in the most beautiful sense."
Anne Goebel, sul quotidiano leader Suddeutsche Zeitung, sottolinea i contenuti culturali del radiofonografo, legandosi a una mostra speciale, realizzata a Weimar, all'interno di prestigiose residenze antiche. Uno dei protagonisti della mostra è il radiofonografo Brionvega.
Clicca qui per scaricare il PDF dell'articolo
"the Ciliegio is an heirloom for the ages that also plays music."
Jonathan Bell, sul magazine Wallpaper, presenta in modo coinvolgente ed emozionante l'edizione limitata del radiofonografo in finitura ciliegio. Solo 100 esemplari, numerati, ricchi di identità e simbologia. Il ciliegio è forza e gentilezza allo stesso tempo, bellezza estetica unita alla tradizione della produzione artigianale italiana.
Clicca qui per scaricare il PDF dell'articolo
"radiofonografo finds its place of honour in the homes of celebrities"
Marcel Shlutt, sulla testata lifestyle Kaltblut, ci fa percorrere un giro intorno al mondo, passando da tante celebrità che si sono affezionate, sia in passato che oggi, ad un radiofonografo Brionvega. Questo ci dimostra quanto la bellezza unica dell'Art Product radiofonografo sia riconosciuta a livello globale.
Clicca qui per scaricare il PDF dell'articolo
"Take some cult pieces… and leave it to the magic…"
Sandrine Place, Elle Decor France, accompagna i propri lettori in un viaggio fra icone del design… presentate in colori iconici. Il radiofonografo è tra i prodotti esclusivi che danno identità a un intero ambiente.
Clicca qui per scaricare il PDF dell'articolo
"We are in a place without beginning or end"
Sylvie Becquet, su AD CHINA, presenta il radiofonografo e altre icone del design italiano, all'interno di una mostra museale, design e arte si fondono sinergicamente nel timeless design del radiofonografo.