Tout le monde parle du radiofonografo
Même les médias internationaux sont tombés amoureux de la radiofonografo
Le radiofonografo conçu par les frères Castiglioni n'est pas seulement une icône du design italien, mais c'est aussi un chef-d'œuvre capable de raconter et de transmettre de nombreuses histoires spéciales et uniques. C'est pourquoi, outre de nombreux passionnés à travers le monde, de nombreux journalistes en parlent aussi souvent, chacun avec son propre point de vue, chacun créant sa propre histoire, aussi unique et spéciale que les produits d'art Brionvega.
Sans cacher une once de fierté, voici quelques exemples d'articles parus dans les journaux internationaux au cours des derniers mois d'été.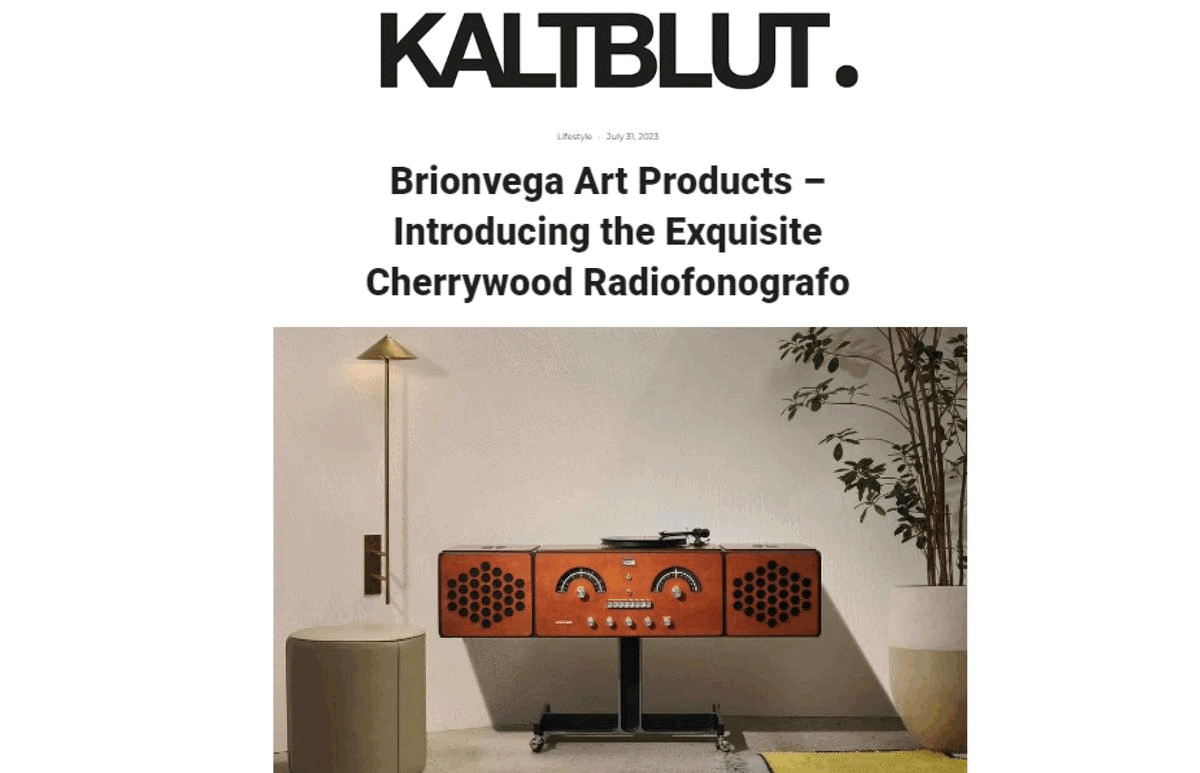 "The radiofonografo serves as a timeless heirloom that can be passed down through generations."
Mandi Keighran dans le magazine OnOffice, dédié aux architectes et décorateurs d'intérieur, illustre les deux âmes qui cohabitent dans le radiofonografo: la fidélité au projet original et le charme du processus de production artisanal, qui permettent à cet objet d'être toujours perçu comme un design intemporel.
Cliquez ici pour télécharger le PDF de l'article
"We are timeless, in the most beautiful sense."
Anne Goebel, dans le principal journal Suddeutsche Zeitung, souligne le contenu culturel du radiofonografo, en le reliant à une exposition spéciale, organisée à Weimar, dans de prestigieuses demeures anciennes. L'un des protagonistes de l'exposition est le radiofonografo Brionvega.
Cliquez ici pour télécharger le PDF de l'article
"the Ciliegio is an heirloom for the ages that also plays music."
Jonathan Bell, dans le magazine Wallpaper, présente l'édition limitée du radiofonografo en finition cerise d'une manière engageante et passionnante. Seulement 100 exemplaires, numérotés, riches d'identité et de symbolique. Le cerisier est à la fois force et gentillesse, beauté esthétique alliée à la tradition de la production artisanale italienne.
Cliquez ici pour télécharger le PDF de l'article
"radiofonografo finds its place of honour in the homes of celebrities"
Marcel Shlutt, dans le magazine lifestyle Kaltblut, nous fait faire un tour du monde en passant par de nombreuses célébrités devenues friandes, hier et aujourd'hui, d'une radio Brionvega. Cela nous montre à quel point la beauté unique du radiofonografo Art Product est reconnue dans le monde entier.