Todas hablan del radiofonografo
Hasta los medios internacionales se enamoraron del radiofonógrafo
El radiofonógrafo diseñado por los hermanos Castiglioni no es sólo un icono del diseño italiano, sino que es una obra maestra capaz de contar y transmitir muchas historias especiales y únicas. Por eso, además de muchos entusiastas en todo el mundo, también suelen hablar de ello numerosos periodistas, cada uno con su propio punto de vista, cada uno creando su propia historia, tan única y especial como los Productos de Arte Brionvega.
Sin ocultar una pizca de orgullo, aquí tenéis algunos ejemplos de algunos artículos aparecidos en periódicos internacionales publicados en los últimos meses de verano.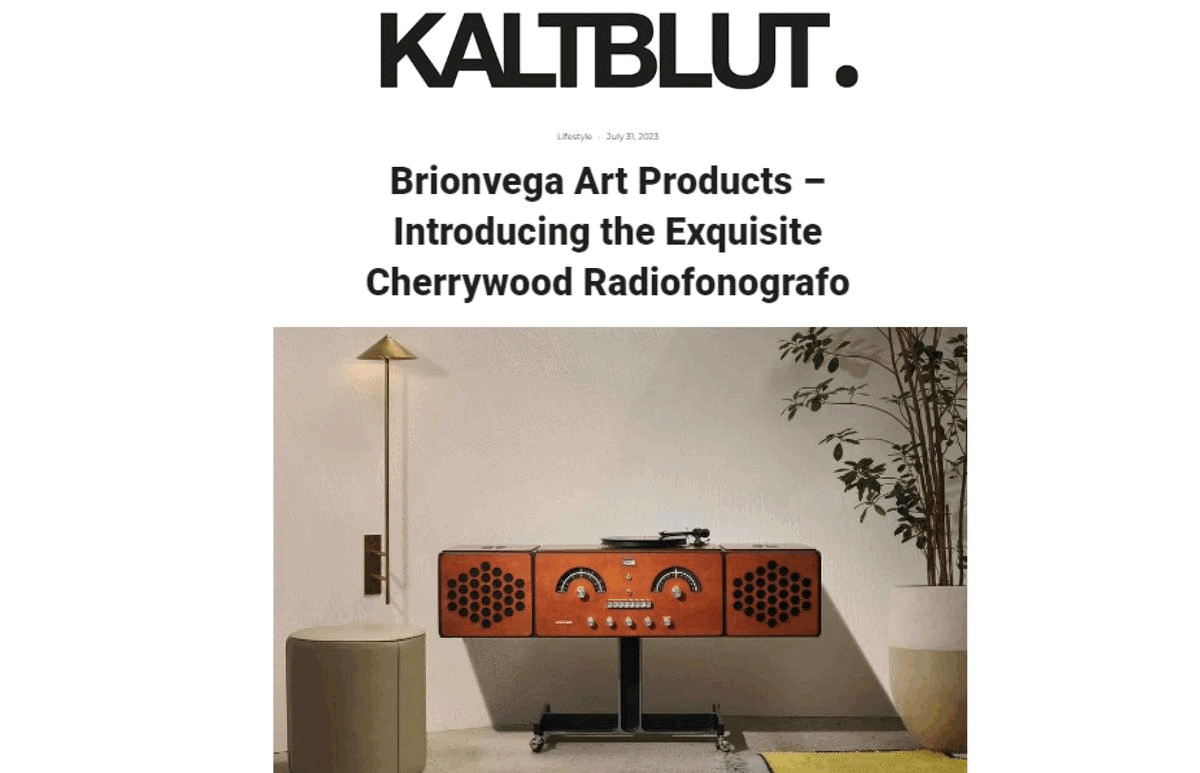 "The radiofonografo serves as a timeless heirloom that can be passed down through generations."
Mandi Keighran en la revista OnOffice, dedicada a arquitectos y diseñadores de interiores, ilustra las dos almas que conviven en el radiofonógrafo: la fidelidad al proyecto original y el encanto del proceso de producción artesanal, que permiten que este objeto se perciba siempre como un diseño atemporal.
Haga clic aquì para descargar el PDF del artículo
"We are timeless, in the most beautiful sense."
Anne Goebel, en el importante periódico Suddeutsche Zeitung, subraya el contenido cultural del radiofonógrafo, vinculándolo a una exposición especial, celebrada en Weimar, en el interior de prestigiosas residencias antiguas. Uno de los protagonistas de la exposición es el radiofonógrafo Brionvega.
Haga clic aquì para descargar el PDF del artículo
"the Ciliegio is an heirloom for the ages that also plays music."
Jonathan Bell, en la revista Wallpaper, presenta de una forma atractiva y emocionante la edición limitada del radiofonógrafo en acabado cerezo. Sólo 100 ejemplares, numerados, ricos en identidad y simbolismo. El cerezo es fuerza y ​​bondad al mismo tiempo, belleza estética combinada con la tradición de la producción artesanal italiana.
Haga clic aquì para descargar el PDF del artículo
"radiofonografo finds its place of honour in the homes of celebrities"
Marcel Shlutt, en la revista de estilo de vida Kaltblut, nos lleva de gira por el mundo, pasando junto a numerosos personajes famosos que se han aficionado, tanto en el pasado como en la actualidad, a una radio Brionvega. Esto nos muestra cómo la belleza única del producto artístico radiofonográfo es reconocida a nivel mundial.
Haga clic aquì para descargar el PDF del artículo
"Take some cult pieces… and leave it to the magic…"
Sandrine Place, Elle Decor France, lleva a sus lectores en un viaje a través de iconos del diseño… presentados en colores icónicos. El radiofonógrafo se encuentra entre los productos exclusivos que dan identidad a todo un entorno.
Haga clic aquì para descargar el PDF del artículo
"We are in a place without beginning or end"
Sylvie Becquet, en AD CHINA, presenta el radiofonógrafo y otros iconos del diseño italiano, dentro de una exposición de museo, el diseño y el arte se fusionan sinérgicamente en el diseño atemporal del radiofonógrafo.