Alle reden über den radiofonografo
Sogar die internationalen Medien verliebten sich in den radiofonografo
Der von den Gebrüdern Castiglioni entworfene radiofonografo ist nicht nur eine Ikone des italienischen Designs, sondern auch ein Meisterwerk, das viele besondere und einzigartige Geschichten erzählen und vermitteln kann. Deshalb sprechen neben vielen Enthusiasten auf der ganzen Welt auch zahlreiche Journalisten oft darüber, jeder mit seiner eigenen Sichtweise, jeder erfindet seine eigene Geschichte, so einzigartig und besonders wie die Brionvega Art Products.
Ohne einen Anflug von Stolz zu verbergen, hier einige Beispiele einiger Artikel, die in den letzten Sommermonaten in internationalen Zeitungen erschienen sind.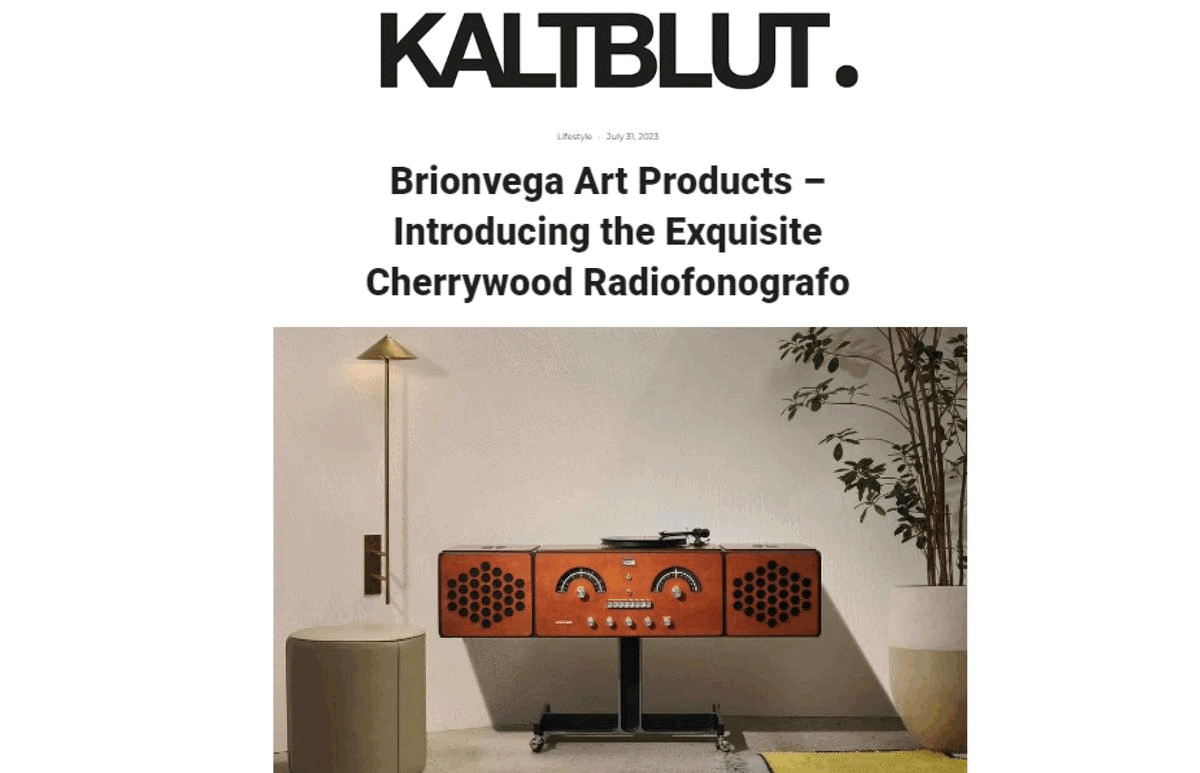 "The radiofonografo serves as a timeless heirloom that can be passed down through generations."
Mandi Keighran im OnOffice-Magazin, das Architekten und Innenarchitekten gewidmet ist, veranschaulicht die beiden Seelen, die im radiofonografo koexistieren: die Treue zum ursprünglichen Projekt und den Charme des handwerklichen Produktionsprozesses, die es ermöglichen, dass dieses Objekt immer als zeitloses Design wahrgenommen wird.
Klicken Sie hier, um das PDF des Artikels herunterzuladen
"We are timeless, in the most beautiful sense."
Anne Goebel unterstreicht in der führenden Zeitung Süddeutsche Zeitung den kulturellen Inhalt des radiofonografo und verbindet ihn mit einer Sonderausstellung, die in Weimar in prestigeträchtigen antiken Residenzen stattfand. Einer der Protagonisten der Ausstellung ist der Brionvega-radiofonografo.
Klicken Sie hier, um das PDF des Artikels herunterzuladen
"the Ciliegio is an heirloom for the ages that also plays music."
Jonathan Bell präsentiert im Wallpaper-Magazin auf ansprechende und spannende Weise die limitierte Auflage des radiofonografo in Kirschbaum-Finish. Nur 100 Exemplare, nummeriert, reich an Identität und Symbolik. Der Kirschbaum ist Stärke und Freundlichkeit zugleich, ästhetische Schönheit gepaart mit der Tradition italienischer Handwerkskunst.
Klicken Sie hier, um das PDF des Artikels herunterzuladen
"radiofonografo finds its place of honour in the homes of celebrities"
Marcel Shlutt nimmt uns im Lifestyle-Magazin Kaltblut mit auf eine Weltreise, vorbei an vielen Prominenten, die früher und heute eine Vorliebe für ein Brionvega-radiofonografo hatten. Dies zeigt uns, wie die einzigartige Schönheit des Radiophonographen-Kunstprodukts weltweit anerkannt wird.